2022 Volkswagen ID.4 EV vs 2022 Ford Mustang Mach-E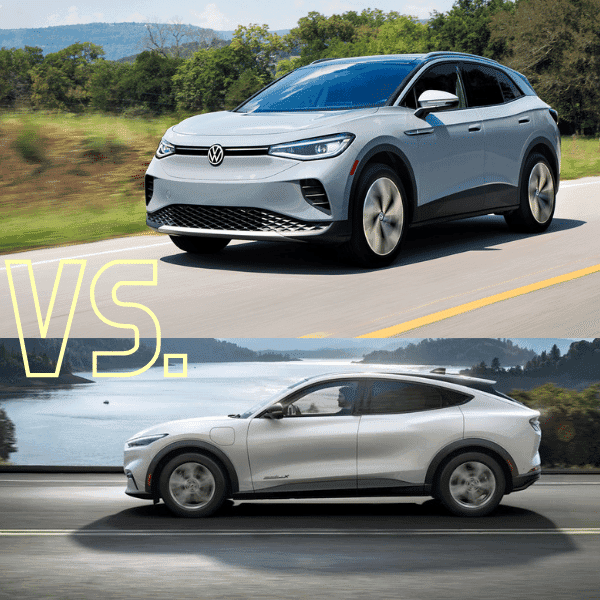 2022 Volkswagen ID.4 EV vs. 2022 Ford Mustang Mach-E
Electric vehicles are the future of everyday vehicle design, and the 2022 Volkswagen ID.4 EV is the brand's excellent SUV offering to the EV market. Equipped with the modern features that northern Colorado drivers and their families want most, the ID.4 EV is ready to change how the conventional customer sees all-electric vehicle performance. Compared to other modern all-electric SUVs like the 2022 Ford Mustang Mach-E, northern Colorado customers are invited to rethink their ideas on the potential of EV design when compared to their traditional gasoline-powered counterparts.
Performance
Standard RWD versions of the 2022 Volkswagen ID.4 EV have an electric motor placed directly on the rear axle. This provides the all-electric SUV with 201 horsepower of virtually instantaneous performance. Those looking for AWD maneuverability and more horsepower can opt for the version of the ID.4 EV that places another electric motor on the front axle and delivers 291 horsepower. As for the 2022 Ford Mustang Mach-E, the powertrain configuration is similar to the Volkswagen. Either a single electric motor on the rear axle or an additional one on the front axle changes what kind of handling and power the vehicle has to offer. The RWD, single motor setup of the Ford Mustang Mach-E delivers 266 horsepower. Customers who opt for the standard ID.4 EV will find they can go farther on a single charge of the battery when compared to the standard Mustang Mach-E.
Interior Features
For families who need their SUV to easily handle large grocery runs or other tasks that require hauling lots of items, the 2022 VW ID.4 EV offers more cargo space than the Ford Mustang Mach-E with all seats folded up. This means family excursions to the mall or any other store can be fun for everyone in the 2022 ID.4 EV as they get to enjoy the plentiful passenger space as well. The benefits of the Volkswagen don't stop there, as the brand has put heavy emphasis on making the ID.4 EV an interactive center of convenience and entertainment on every trim level. This includes having integrated navigation, a wireless inductive smartphone charger, and a 4G LTE Wi-Fi® hotspot all equipped on every 2022 VW ID.4 EV. Heated front seating is also a standard inclusion to the Volkswagen for premier all-weather comfort. In the Ford Mustang Mach-E, the above elements are available through select packages.
Safety Features
Being family-oriented SUVs, both the 2022 VW ID.4 EV and the 2022 Ford Mustang Mach-E are equipped with a wide array of standard driver-assistive technology. Respective versions of both Lane Keeping Assist and Lane Departure Warning ensure that drivers of either all-electric vehicle don't unintentionally veer out of their lane. Similarly, standard Blind Spot Monitoring is equipped for drivers to take advantage of so they can reduce the likelihood of an accident from rear traffic. Both electric SUVs are also equipped with Electronic Stability Control and Driveline Traction Control to help keep drivers confident in their vehicle's cornering and grip capabilities while navigating slippery roads or sharp corners.
Visit Emich VW of Boulder to Order a 2022 Volkswagen ID.4 EV
Emich VW of Boulder wants to help fellow Boulder residents and other northern Colorado customers experience why an all-electric vehicle should be a consideration for their next family vehicle. Visit our dealership today, and one of our helpful team members will guide you through the ordering process so that you get behind the wheel of the ID.4 EV that you and your family will love. Part of the trusted Emich family of dealerships across Colorado, see why we are a go-to destination for new Volkswagen models in northern Colorado.
| | | |
| --- | --- | --- |
| | 2022 VW ID.4 EV | 2022 Ford Mustang Mach-E |
| Base MSRP | $41,230 | $43,895 |
| Horsepower | 201 HP | 266 HP |
| City Estimated MPGe: | 121 MPGe | 110 MPGe |
| Highway Estimated MPGe: | 102 MPGe | 96 MPGe |