2021 vs 2022 Volkswagen Jetta Sedan in Colorado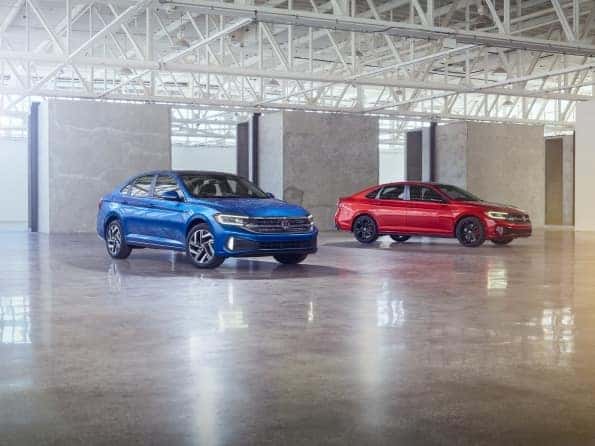 2022 VW Jetta vs. 2021 VW Jetta
Northern Colorado driving is an enjoyable experience behind the wheel of the 2022 Volkswagen Jetta. In the latest version of the storied sedan, there have been modernized touches to keep the vehicle at the forefront of the accessible sedan field. An improvement in performance and a rebranding of a trim level from the 2021 model year are just several of the changes that the Jetta has received. For Boulder drivers looking for a reliable, yet sporty sedan that can cater to any budget, the 2022 Jetta is a top choice to consider.
Performance
Upgrading the 1.4L turbocharged engine from the 2021 model year of the Jetta to a 1.5L version in the 2022 Jetta, the sedan offers greater on-demand performance for northern Colorado. Going from 147 horsepower to 158 horsepower, the 2022 Jetta ensures that plenty of fun and dependable power is always available to the driver. The 2022 model year sedan carries over its standard six-speed manual and available eight-speed automatic transmission options from its 2021 iteration. It also keeps its FWD handling from the previous year. Even with its increase in performance, the 2022 Jetta is more efficient around the city compared to its 2021 counterpart.
Exterior & Interior Features
The second-tier R-Line trim that was available for the 2021 Jetta has been changed to the Sport trim for the 2022 model year. With the introduction of the new trim is a revamp of its exterior to give it an even sportier appearance. This includes new 17-inch wheels and a sleek blacked-out exterior. This makes the 2022 VW Jetta Sport a scintillating option for those who like to take a step away from the normal Jetta cruising experience. For the base S trim level of the 2022 Jetta, drivers get to have an eight-inch digital gauge cluster installed in their sedan as a standard feature.
Safety Features
Previously optional driver-assistance technology from the 2021 model year of the VW Jetta is now standard on the 2022 version of the sedan. These new standard options give protection for the front of the vehicle through Automatic Emergency Braking while providing equally comprehensive coverage for the rear of the vehicle through Blind Spot Monitoring. Taking on the busy traffic in and around Boulder is much more manageable with these inclusions. For more enjoyable and less burdensome highway driving on 1-25 or 1-70, Adaptive Cruise Control remains a quality available option.
Shop for a New 2022 Volkswagen Jetta at Emich VW of Boulder
Take a refreshed look at your everyday Boulder driving with the 2022 VW Jetta. This latest version of the renowned sedan is ready to make cruising all around northern Colorado an enjoyable and dependable experience. If you are interested in adding this fantastic sedan to your selection of vehicles, visit Emich VW of Boulder today. Our sales team is ready to help you find the version of the 2022 Jetta that best fits your needs.
| | | |
| --- | --- | --- |
| | 2022 Volkswagen Jetta | 2021 Volkswagen Jetta |
| Base MSRP | $21,190 | $19,990 |
| Horsepower | 158 HP | 147 HP |
| City Estimated MPG: | 31 MPG | 30 MPG |
| Highway Estimated MPG: | 41 MPG | 41 MPG |
(Photo Credit: Volkswagen)