2021 VW ID.4 EV SUV Coming to Boulder, Colorado

2021 VW ID.4 EV MEB Electric SUV Coming to Boulder, Colorado
Volkswagen is revolutionizing the electric vehicle market with its exciting offering of concept vehicles based on their innovative Modular Electric Drive (MEB) platform. Now one of these amazing vehicles is in production. The 2021 Volkswagen ID.4 EV Electric SUV is arriving soon, but you can actually schedule a test drive for the demo available at Emich VW. The ID.4 EV will bring a new light to the crossover / compact SUV field, giving drivers an exciting change to their perception of what the ideal SUV should be. Blending the appearance of a sporty sedan and impressive functionality of a capable SUV, the ID.4 EV is a strikingly beautiful vehicle that will be sure to turn heads no matter where you go. Plus, it is expected to carry an affordable price tag.
Volkswagen ID.4 EV Trims
ID.4 Pro EV – $31,190* or lease for $390/mo w/ $0 out of pocket**
ID.4 Pro AWD EV – $34,870* or lease for $438/mo**
ID.4 Pro S EV – $35,690* or lease for $449/mo**
ID.4 Pro S AWD EV – $39,370* or lease for $497/mo**
Gradient Package (Requires Pro S Trim) – $1,500
*MSRP less $7,500 Federal Tax Credit and $2,500 Colorado Tax Credit. **WAC, 7500 miles/year, $1,250 Colorado Tax Rebate due at signing, 60 month lease, thru VW Credit, $859 capital cost reduction.
Performance
The 2021 VW ID.4 EV will be built on the MEB platform, which is designed to be the central platform for the Volkswagen electric vehicle fleet moving forward. Separate electric motors will power the front and back wheels, giving excellent rear-biased four-wheel drive capability. You can expect the RWD models to have the equivalent of a 201hp motor (2,200 lbs towing) and the AWD models will provide the equivalent of a 302hp motor (2,700 lbs towing). This full-battery electric compact SUV's four-wheel drive will greatly improve the overall handling potential for every driver, making it an excellent option for Colorado drivers. The ID.4 EV was designed to have as close to 50-50 weight distribution as possible, with the goal being to ensure this Volkswagen is highly maneuverable regardless of the road conditions.
The range is an impressive EPA-estimated 250 miles. Charging won't be a challenge since the expected charge time for this innovative VW will be as quick as 30 minutes at 125 kW, thanks to fast charging technology capability. The battery can be charged from 5% to 80% in ~38 minutes or 60 miles in ~10 minutes at a public DC fast charging station. The 2021 VW ID.4 EV purchase comes with three years of free charging through the Electrify America infrastructure.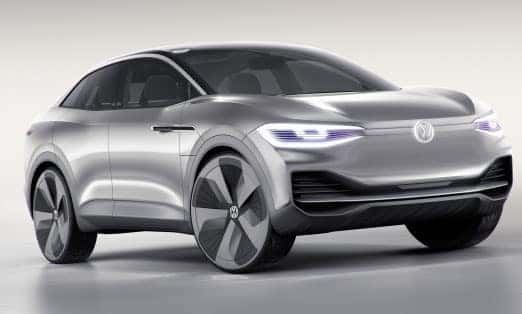 Technology
With all the changes to design philosophy the VW ID.4 EV will feature, one important aspect that will remain is the large amount of cabin space for both the front and rear passengers. The concept model that has been showcased features four seats, however five seats will be the standard when the ID.4 EV in the production model. The spacious rear cargo area is over 30 cubic feet with the rear seats up and over 64 cubic feet with them folded down. You can expect a super variety of standard features including 19″ alloy wheels, heated seats and steering wheel, wireless phone charging, wireless app-connect, huge 10.3″ touchscreen and 5.3″ driver digital displays, intuitive start, ID.Light, and the all-new IQ.DRIVE system. The innovative IQ.DRIVE system features many advance Driver Assistance technologies, including hands-on semi-autonomous driving capability, lane assist, travel assist, front assist, emergency assist, adaptive cruise control, blind spot monitoring, and rear traffic alert.
Volkswagen ID.4 Coming to Boulder, Colorado
The all-new 2021 VW ID.4 EV SUV, built on the MEB platform, is available to be ordered now! Emich Volkswagen, Colorado's #1 VW Dealership, is eager to assist you with your ID.4 order. Contact us today with any questions you have on the ID.4 or the ordering process.