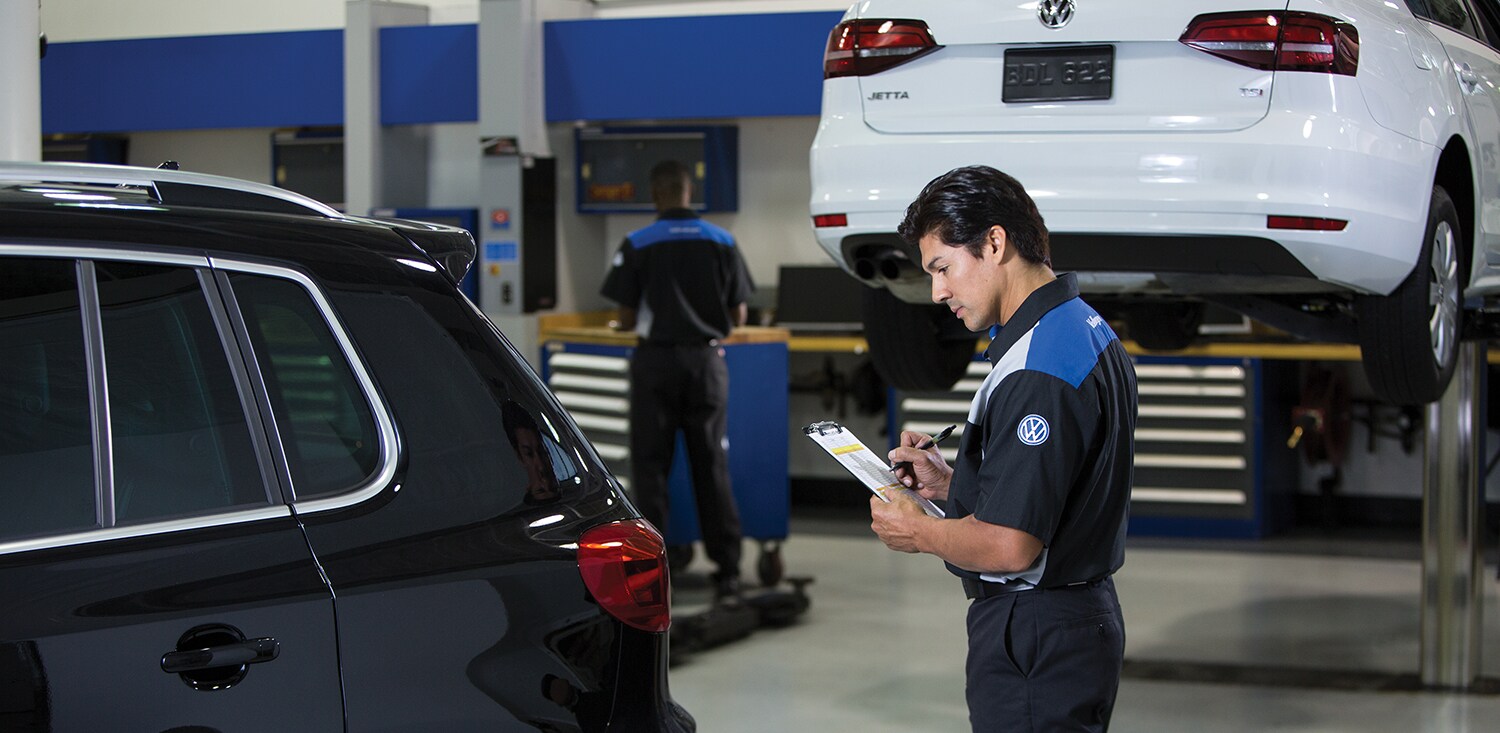 Volkswagen Excess Wear and Tear Coverage 
at Gebhardt Volkswagen 
Protect Yourself From Lease Return Fees
Choosing to lease a new VW model at Gebhardt Volkswagen comes with exciting benefits. You get to operate a vehicle with zero miles on the odometer with shorter term lengths for more flexibility at lower monthly payment rates. But there are factors, such as the return policy and subsequent charges that may accrue, you need to review for complete transparency prior to proceeding.
Thankfully, our team offers sensible VW finance solutions to help you maximize your Volkswagen lease experience here in Boulder. To prevent extra costs and fees from applying at the end of this lease agreement - pending a service inspection of the vehicle's current condition upon return - we offer extensive protection plan options in accordance with the Volkswagen Drive Easy Program.
Consider the risks associated with not covering this leased vehicle, why we recommend taking full advantage of this program's benefits, and what program options specifically cover when you choose to incorporate coverage.
What You're Responsible for at the End of a Lease Agreement
When a lease agreement concludes, identified damage and wear may respectively result in a fee and extra costs. While a dent, ding or chip may seem like an insignificant deal at the time, these lease-related expenses can add up. Other problems include chipped paint and worn tires. Examples of cabin charges that can apply include stains and tears for upholstery. 
Beyond preventing these costs from building up during a lease return visit, the peace of mind that comes with protection coverage enhances your experiences behind the wheel for the duration of an agreement. You deserve to enjoy these moments seated inside a new Volkswagen model that features riveting capability, rich comfort, modern technology, and responsive active safety settings. Maximize this investment accordingly and save yourself from the headache of a stressful lease return inspection process by eliminating these issues entirely.
Hours
Monday

7:30 AM - 7:00PM

Tuesday

7:30 AM - 7:00PM

Wednesday

7:30 AM - 7:00PM

Thursday

7:30 AM - 7:00PM

Friday

7:30 AM - 7:00PM

Saturday

9:00 AM - 6:00PM

Sunday

Closed
Available Volkswagen Protection Plans for Leased Vehicles
You have several Volkswagen Drive Easy Program protection plans to choose from in Boulder, each with its own respective appeal. Consider the following protection coverage options and contact our finance team to discuss more specifics: 
Vehicle Service Protection Plan: This option comes with several pricing levels and packages to choose from, extending coverage beyond the lease factory warranty included up to 10 years and 150,000-miles. 
Term Protection Plan: Agree to a long-term VW Lease plan? With Term Protection, major parts - including brake pads and battery - that typically age over time are fully backed. This coverage extends to natural wear and can span six-years/72,000-miles.
Lease-End Protection Plan: This very popular Volkswagen lease coverage will waive a maximum of $10,000 in end-of-lease charges related to wear and tire. Examples of items that are covered under this policy include cabin stains, worn tire tread, paint chips, body dents and dings.
Components that VW Lease Protection Covers
Interested in the specific parts that these respective VW Lease Protection options apply to? Hundreds of different components fall under this coverage umbrella when choosing to add Volkswagen coverage to your formal lease agreement. From the car's windshield and glass to handles, molding, lighting and much more, you can maintain a confident perspective from behind the wheel with even the subtler details accounted for.
Other examples of relevant components you can respectively cover as part of your Volkswagen lease agreement here in Boulder include:
Bumpers Wheels

Audio Infotainment
Tops
Cabin Upholstery
Exterior Trim
Incorporate Volkswagen Lease Protection into your Payments
Our finance experts work hard to ensure that the process of applying Volkswagen lease protection is smooth and in direct alignment with the lease agreement you choose to sign. With options to mesh your lease plan with these coverage options under one monthly payment, you won't have to deal with complex paperwork and logistics. With this signed lease form and protection coverage bundled together, you can turn your focus to a stress-free experience positioned in the driver's seat and many miles of fulfilling travel ahead. 
Contact our Finance Experts with Questions Today
If you wish to learn more about these lease protection plans, why our experts highly recommend implementing coverage into your agreement, and how each option respectively works, we're more than happy to discuss details and answer questions extensively on your behalf. Give us a call today, schedule a consultation online, or stop by our Volkswagen dealership here in Boulder to get started!