2022 VW ID.4 EV Electric SUV For Sale in Boulder, Colorado

2022 VW ID.4 EV Electric SUV For Sale or Lease in Boulder, Colorado
Order your 2022 VW ID.4 EV today, starting at $31,230* ($41,230 MSRP less $10,000 in Federal ($7,500) and Colorado ($2,500) tax credits). The VW ID.4 EV offers the best EV package for the price. The ID.4 EV is the cheapest EV that is an SUV offering all-wheel drive. The 2022 Volkswagen ID.4 EV Electric SUV is expected to beat our Boulder, Colorado dealership in early 2022. We currently have a 2021 ID.4 to test drive and for demonstration purposes. You can book a test drive or reserve your own ID.4 by clicking the links below.
Volkswagen ID.4 Trims
ID.4 Pro EV – $31,230*
ID.4 Pro AWD EV – $34,910*
ID.4 Pro S EV – $35,730*
ID.4 Pro S AWD EV – $39,410*
Gradient Package (Requires Pro S Trim) – $1,500
*base MSRP less $7,500 Federal Tax Credit and $2,500 Colorado Tax Credit.
Performance
The 2022 VW ID.4 EV has two power options so you can find the perfect one for your Northern Colorado drive. The RWD models have the equivalent of a 201 hp motor (2,200 lbs towing) and the AWD models have the equivalent of a 295 hp motor (2,700 lbs towing when using a braked trailer). Separate electric motors power the front and back wheels, giving excellent rear-biased four-wheel drive capability on the AWD model. This full-battery electric compact SUV's four-wheel drive will greatly improve the overall handling potential for every driver, making it an excellent option for Colorado drivers. The ID.4 was designed to have as close to 50-50 weight distribution as possible, with the goal being to ensure this Volkswagen is highly maneuverable regardless of the road conditions. A 0-60mph time of 5.7 seconds is noted for the AWD version.
The range is an EPA-estimated 260 miles, with an estimated 249 mile range for the AWD Pro and 240 miles for the AWD Pro S. The expected charge time for this innovative VW will be as quick as 30 minutes at 125 kW, thanks to compatibility with fast charging technology. The battery can be charged from 5% to 80% in ~38 minutes or 60 miles in ~10 minutes at a public DC fast charging station. Purchasing the 2022 VW ID.4 EV offers three years of free charging through the Electrify America infrastructure.
You can build and reserve your new 2022 Volkswagen ID.4. All it takes is a refundable $100 deposit! An additional $400 refundable deposit is required when your order is built.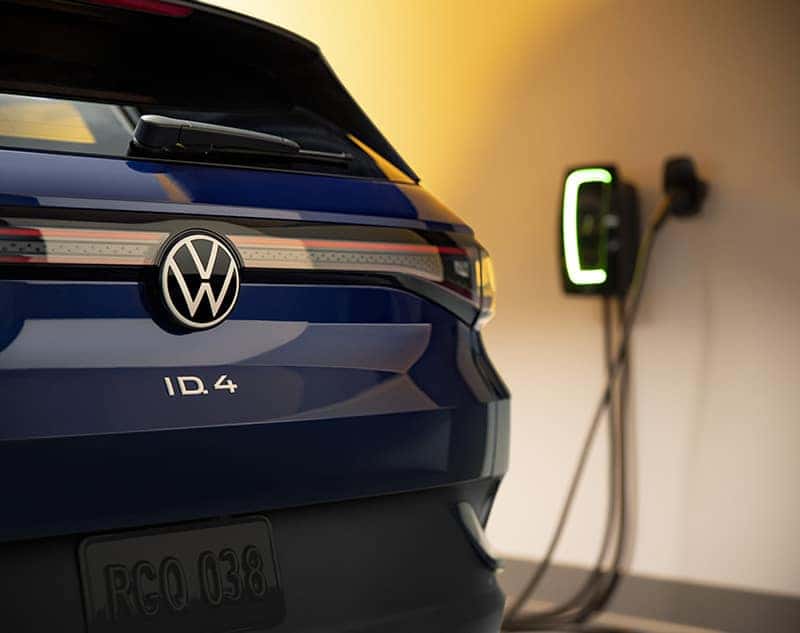 Features & Technology
The VW ID.4 EV features a large amount of cabin space for both the front and rear passengers. The rear cargo area is over 30 cubic feet with the rear seats up and over 64 cubic feet with the rear seats folded down. Some of the standard features are: 19″ alloy wheels, heated seats and steering wheel, wireless phone charging, wireless app-connect, huge 10.3″ touchscreen and 5.3″ driver digital displays, intuitive start, ID.Light, and the new IQ.DRIVE system.
The IQ.DRIVE system features advance Driver Assistance technologies, including hands-on semi-autonomous driving capability, travel assist, lane assist, front assist, adaptive cruise control, emergency assist, blind spot monitoring, and rear traffic alert.
Options found in the Pro S trim include 12-way power adjustable front seats, panoramic fixed glass roof, hands-free open and close liftgate, premium LED projector headlights w/illuminated grill and VW logo, and the Discover Pro Max Navigation system with an upgraded 12″ digital display. Adding the Gradient trim package includes 20-inch wheels, a stunning black roof, and silver accents.
The ID.4 EV has an exciting selection of innovative features, including the IQ DRIVE technology. This system aims to provide a more relaxed and enjoyable driving experience by helping the driver manage stressful driving situations. The system has tools to alert you to potential obstacles, and on some models, the system offers semi-autonomous ability to help deal with a situation. The IQ DRIVE can make highway driving less tedious when Travel Assist is activated. This feature uses sensors and a camera to keep the ID.4 EV centered in the lane. The system can detect and warn about an unintentional lane change or drifting and also warn you of a vehicle in your blind spot. The IQ DRIVE sensors can detect a potential collision in front of the vehicle or behind the vehicle while backing, then provides the driver with alerts. The system also monitors steering wheel activity and can detect if your hands are not on the wheel, indicating you might not be actively controlling the vehicle. If this is detected, the system can alert the driver and even bring the ID.4 EV to a controlled stop, if needed.
Other EV Comparisons
The 2022 ID.4 EV is the only EV to offer 3 years of up to 30 minute free DC fast charging sessions through a partnership with Electrify America.
Tesla Model Y Long Range- The ID.4 Pro AWD EV is $24,055 less when considering available tax credits. ID.4 has a larger battery but about 22% less range and is less than 1 second slower 0-60 mph.
Tesla Model 3 – the ID.4 EV is $13,195 less expensive when considering available tax credits. The Model 3 and ID.4 have equivalent range but the Model 3 is faster 0-60.
Hyundai IONIQ 5 – The ID.4 EV is $1,060 more expensive, but has a 41% larger battery, 40 mile longer range, and advanced semi-autonomous driving/safety systems.
Volvo XC40 Recharge- The ID.4 EV is $14,540 less expensive and has a 37 mile longer range.
Ford Mach-E – The ID.4 EV is $3,425 less expensive, has more range, and boasts a larger battery.
Polestar 2 – The ID.4 EV is $5,205 less expensive and has more range.
VW ID.4 EV For Sale or For Lease in Boulder, Colorado
Emich VW of Boulder is excited to offer the ID.4 EV for sale or for lease in Boulder, CO today. We have some available for immediate purchase at our dealership. If you prefer, Emich Volkswagen of Boulder is taking orders for this amazing crossover SUV. There is an initial $100 reservation fee and when the vehicle starts production, this will change to $400, but both fees are refundable at any point. If you would like more information on this incredible vehicle, please CONTACT US and one of our VW experts will contact you quickly!